Time and place
Hotell Sheraton, Tegelbacken 6 in Stockholm, Sunday the 3rd of October.
Opening Hours
– Admission of exhibitors from 07.00.
– The fair is opening for "Early Bird" prebooked visitors at 10.00.
– The fair is opening for the public at 11.00. – The fair is closing for the public at 16.00.
– The fair venue should be evacuated by 17.00.
Renting space and table size
– Table size 180×80 cm.
– An extra table 180×50 cm is included for every booked table that could be used behind the exhibitor.
– The cost for rending a table is 2.000:- SEK/table.
– The tables are distributed according to the exhibitors who "registered first", a priority will be respected.
– The cost of renting a table (or tables) will be invoiced in advance.
Parking
Parking for visitors is available under the hotel, entrance from Vasagatan street.
Attention! The price of parking shall be paid separately to Parkman (the responsible company) and is not included in the hotel price.
Parking places can not be prebooked.
There are elevators from the garage to the ground floor and then elevators that lead to the fair venue.
Loading and unloading your merchandise
The loading dock is open from 07.00 on Sunday morning and can be found behind the hotel. Drive towards Norra Bantorget from Vasagatan street, turn right to Klara Vattugränd street and then right to Klara Västra Kyrkogata street until you find the loading dock. Address: Sheraton Stockholm Hotel, Varumottagningen, 111 52 Stockholm.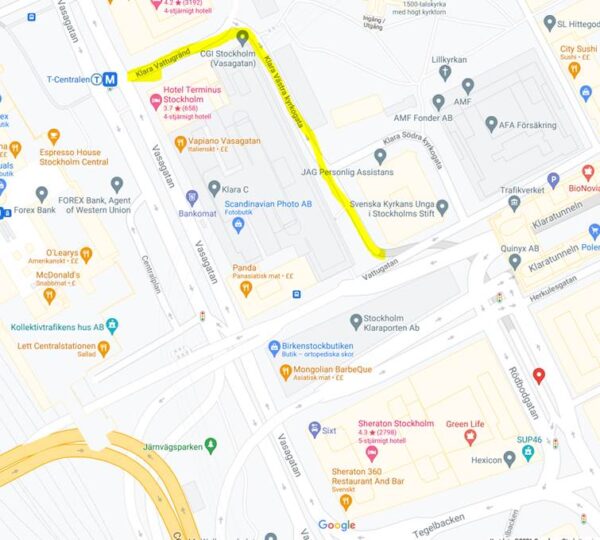 Fair Organiser: For booking of table(s) or further information, please contact Roberto Delzanno, info@stockholm-numismatica.se or 0708-865008.
Staying with special discounts at Hotel Sheraton
Read more on the link "Stay at Sheraton" for prices and reservations.